Good Beginnings That Last A Lifetime
Application Process + Tuition
Applications for The Preschool at Forty Carrots in Sarasota, FL are accepted on an ongoing basis, however parents are recommended to apply in January for the upcoming school year.
AGES ACCEPTED – 2 to 5 years old
PRESCHOOL HOURS – 9:00 AM to 1:00 PM
EXTENDED OPTIONAL HOURS ARE AVAILABLE ON AN OPTIONAL DAILY BASIS FOR ADDITIONAL FEES: 8:00 AM – 9:00 AM and 1:00 PM – 4:00 PM.
SCHOOL YEAR: August 2019 through May 2020
Preschool Tuition Rates Are Based on a School Year
APPLICATION FEE: $100 (first time students only)
REGISTRATION FEE: $300 (due upon acceptance)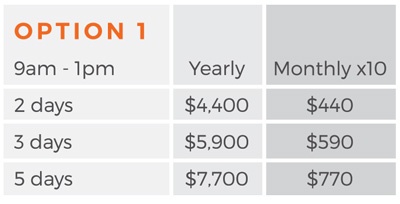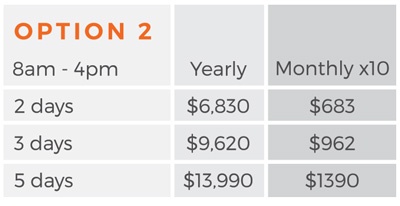 OPTIONAL BEFORE/AFTER CARE CHARGED BY THE 1/2 HOUR:
FINANCIAL ASSISTANCE: Forty Carrots is committed to serving families in all income brackets. If you are interested in applying for financial assistance please complete THIS APPLICATION.
2019-2020 Preschool Registration is now full for the upcoming year
If you would like to be added to our waitlist, please call 941-365-7716.
---
Preschool Tours
To learn about space availability or to arrange a tour, fill out THIS FORM or call 941-365-7716 Monday – Friday, 8:00am – 4:00pm
Total payment in advance of yearly fees will result in 5% discount
Tuition is paid in 10 installments beginning in August.
Financial Assistance for eligible families is available upon acceptance. For more information, please contact our Business Manager at Jean.Lolli@fortycarrots.org
---
Forty Carrots embraces diversity and does not discriminate on any basis.